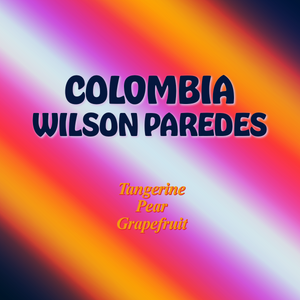 Tangerine, Pear, Grapefruit
Rosablanca is a six hectare specialty coffee farm owned by third generation coffee grower Wilson Paredes. Wilson Paredes has owned Rosablanca for over fifteen years, alongside his wife. A portion of the land that Rosablanca sits on was given to Wilson as an inheritance from his father, and the balance he purchased himself.

Rosablanca employs five people year round and an additional ten people during harvest. To improve the quality of his final coffee, Wilson continuously strives to improve picking methods at the farm. He provides incentives to the pickers to get the best quality of cherries, in addition to better salary and food.

The Tabi varietal is a hybrid of the Typica, Bourbon, and Timor coffee varieties that was developed by Colombia's national coffee research center, Cenicafé, in the 2000s to address the ongoing threat of coffee leaf rust. Tabi was specifically bred to be more resistant to this fungal disease while maintaining high cup quality.